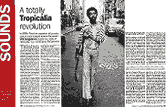 Will Hodgkinson
:: The Times :: 10/02/2006

In 1960s Brazil an explosion of popular culture reverberated around the world. The stars of Tropicália are now reuniting at the Barbican Tropicália was Brazil's psychedelic revolution. Formed under the shadow of a military dictatorship in 1968 and destroyed in the same year, when its leaders Caetano Veloso and Gilberto Gil were imprisoned and exiled to England, it was a musical and artistic movement that changed the country for ever. It put Brazil's youth culture on the international map by combining high art with low trash, Brazilian folk music with rock'n'roll. Its chief members were the poetic intellectual Veloso, the spiritually inclined musician Gilberto Gil, the glamorous, militant singer Gal Costa, the avant-garde songwriter Tom Zé — all from Bahia, the black heartland of Brazil — and from São Paulo, the maestro Rogério Duprat and the teenage rock band Os Mutantes. Their philosophy was reflected in a song by Veloso: It is Forbidden to Forbid.

The impact of Tropicália is comparable with that of the Beatles and the Rolling Stones in the West, but John Lennon or Mick Jagger were never jailed simply for expressing themselves. Now, as the Barbican prepares to host a three-month Tropicália festival, the Tropicalists have become international icons, celebrated as much by American musicians such as Beck and David Byrne as by a new generation of Brazilians. And in a reversal of fortune that marks just how far the country' s political climate has shifted since the 1960s, the one-time cultural revolutionary Gil became Brazil's Minister of Culture in January 2003. Have Gil and the others lived up to the promise of freedom they made in the late 1960s? This is the question I have come to Brazil to answer. Tropicália's roots can be traced to 1967, when Gil heard a traditional instrumental group called Banda de Pifanos de Caruaru playing in the northern city of Recife. He saw a link between the Banda and the Beatles, and wanted to combine both in a movement that would revolutionise Brazilian music.

"It was a feeling, an intuition," says Gil, who accepted his government post at the request of Brazil's leftist President Luis Inácio Lula da Silva. "When I saw the Banda playing, and saw how they managed to express something through their simple instruments, I realised they had a similar character to the Beatles. I knew that the Beatles were the new thing. And I also knew that the Banda was the tip of the root. That inspired me to try to bring rock'n 'roll elements into Brazilian music, as well as the experiments of Stockhausen and the avant-garde, and use open speech to talk about society, politics and the source of life itself."

Gil had left Salvador to live in São Paulo by the time of the Recife trip. On his return he presented his ideas to the left-wing community in the city of which he and Veloso were a part. "They reacted negatively. Electric guitars were considered imperialist, and there was this idea that Brazilian music should be kept pure. But Brazil has never been pure." My first port of call on arriving at São Paulo, an urban sprawl so confusing that even the taxi drivers get lost, is the dark, book-lined flat that Tom Zé shares with his wife, translator, manager and all-round godsend Neusa. Zé, an elfin sprite who looks remarkably young for his 69 years, has remained true to Tropicália's experimental philosophy. He recently completed an operetta, Estudando o Pagode, which tells the story of the repression of women through the ages. Zé's instrument of choice for this is a ficus leaf. When rolled up into a cylinder and blown, this common piece of foliage creates a high-pitched squeal that Brazilian children use to annoy adults. I turn on the tape recorder and Zé says: "Hello my England children, this is a message for you!" Then he blows a ferocious ficus rasp.

"I am very lively right now," Zé tells me. "I only got to do what I dreamt much later than the others involved in Tropicália. Caetano and Gil were able to do great things in their youth, but my time came later." Zé has mixed feelings about Tropicália. It was Veloso and Gil's vision; Zé just happened to be thinking along similar lines. But when Tropicália died, Zé's career went with it. By the late 1980s he was working in his cousin's petrol station.

Around that time David Byrne, the lead singer of Talking Heads and the founder of the Luaka Bop label, came across some Tom Zé albums in a second-hand shop in Rio. Luaka Bop put out a Tom Zé compilation in 1992 and Zé was saved from a retirement spent pumping petrol. "David Byrne was a salvation for me, a denial of death," he says. "When Tropicália ended I was buried alive, a footnote in history. Only David Byrne was capable of taking me out of that grave." A few hours after meeting Tom Zé I'm sitting in the self-built house and studio of Sérgio Dias Baptista, the guitarist and founder member of Os Mutantes, on the outskirts of São Paulo. Dias, a cheerfully irreverent man who looks very much like a Brazilian Paul McCartney, is apprehensive. The original members of Os Mutantes — Dias, his elder brother Arnaldo Baptista, and Baptista's teenage sweetheart and former wife Rita Lee — are preparing to meet for the first time in 30 years in a few days' time. If the meeting goes well Os Mutantes will be playing at the Barbican for a reunion that many — including Kurt Cobain, who wanted Os Mutantes to support Nirvana on a tour of Brazil — have tried and failed to engineer.

The Baptista brothers met Rita Lee at a high school battle of the bands in São Paulo in 1966. Inspired by a shared love of the Beatles, Os Mutantes played on a series of Heath Robinson-like contraptions built by Sergio and Arnaldo's elder brother Claudio and were soon making appearances on local television. No doubt aided by their wild costumes — they would dress as witches for one show, conquistadors for another — they came to the attention of the classical arranger Rogério Duprat, who felt that they would make an ideal band for a young Bahian singer he had heard about called Gilberto Gil. In 1967 Mutantes backed Gil as he played his song Domingo no Parque at a festival in front of a left- wing audience who believed that electric guitars were the tool of the imperialist devil. A lot of eggs were thrown. "Caetano and Gil were oriented in politics and philosophy, but were naughty," explains Dias. "We were just kids — in the beginning of our song Dom Quixote there is an excerpt from Ben-Hur because we saw it the day before going to the studio. Everything we did was a product of pure excitement; pure joy."

This wasn't to last. In 1970, after making their third album, A Divine Comedy, a druggy masterpiece that contains an ode to Lucifer and a lament for a broken fridge, the band's lifestyle tore them apart. Arnaldo began taking LSD daily. He married Rita Lee on December 31, 1971, the day before Lee turned 24. The marriage was over before she hit 25. "I didn't leave. They chucked me out!" Rita Lee told me by e-mail, when I asked her why she walked out of Os Mutantes in 1972. Arnaldo Baptista left two years later, his mental health in decline. In 1982 he jumped out of the window of a psychiatric institute and was in a coma for the next two months. "I was somehow disconnected with the world and I wanted to get out. So I thought, if I jump, either I die or I'm free. So let's try it," says Baptista when I meet up with him and his wife, a former fan, at his house in Belo Horizonte. He jumped — and woke up with the woman who would become his wife at his side. His only comment on the proposed Os Mutantes reunion is: "I will believe it when it happens." (In fact it did — the group will play together at the Barbican.)

Rio is a world apart from São Paulo. Along the coastline of the Zona Sul anything more than shorts and a T-shirt is overdressed: those with toned bodies opt for a bikini or briefs accessorised with a pair of Havaianas flip-flops. Caetano Veloso has an apartment that takes up a floor of a smart block in Ipanema and looks out on this sandy catwalk of narcissism. He cuts a distant, glamorous figure. He has been married twice but makes no secret of his attraction to men, and although he 's from Bahia, Veloso seems to embody the sprit of Rio's Zona Sul, with its louche bossa nova soundtrack and its beautiful neighbourhoods less than a mile from notoriously crime-ridden slums. "Our pretension was to live up to our hero, João Gilberto," says Veloso in a slow Bahia lilt. "But Tropicália was the opposite of what João Gilberto did with bossa nova, which was a refinement of the good way of making popular music in Brazil. We wanted to open ourselves to imperfection, to let traces of reality show. And we attempted to have a courageous attitude towards our political and historical situation."

Although it seems that Veloso has tired of being a genius in recent years — his last album consisted of cover versions of American songs— he has done enough to provide the Brazilian songbook with a staple of poetic masterpieces. Lost in the Paradise, Alegria, Alegria and Panis et Circenses are experimental but elegant and poignant; political but indirect. "We were from the left. We went on the marches against the dictatorship," says Veloso.

"But artists are not purely political animals." As Gal Costa states: "The intention of Tropicália wasn't a political one. It was more the idea of internationalising Brazilian music, to bring the revolutionary spirit of the hippy era to Brazil."

Veloso wrote Baby, one of the most beautiful of all of the Tropicália songs, for his friend Gal. The pair had met in Bahia as teenagers and bonded over a belief that João Gilberto was the best singer in Brazil. "João Gilberto appeared on radio singing Chega de Saudade," says Costa. "From then on I would sing his songs in the bathroom, and when I met Caetano he understood what I wanted to do. I was humble, but I knew I was good. I was a good lover too."

As Tropicália blossomed from an idea into a movement, Costa moved from singing in a pure bossa nova style to combining that with Janis Joplin-style shrieks. Somehow the unlikely pairing worked and she became Tropicália's hippy diva.

By December 1968 Tropicália had its own short-lived television show, Divine, Marvellous. On the Christmas edition Veloso held a gun to his head while singing a traditional song. This coincided with the military's passing of the International Act No 5, which ended the most basic of human rights and made torture a routine part of the interrogation process. At 3am on the morning after the show Veloso and Gil were arrested and taken to solitary cells in a jail in Rio.

"I would sleep on the ground with nothing but a filthy blanket and my head next to a loo," Veloso recalls. "There was a little slot at the bottom of the door for the guards to put my food in. I thought I might be there for the rest of my life. At first nobody said anything to me. Then it was: 'Stand up! Take this! Get up! Go in!' Only the last two weeks were dedicated to any questions."

"In the end they gave us lots of ridiculous reasons for putting us in jail," said Gil. "Like 'you work for the communists, you want to destroy our youth . . .' The real reason was: you are too enigmatic and we can't understand you, so it's better that you are in jail."

Prison was followed by four months under curfew in Salvador. They could not see their families, make music, or leave town. Gil asked the colonel in charge for a solution to their problem. The solution was to leave Brazil. On July 5, 1969, Veloso and Gil arrived in London, where they stayed for two and a half years.

"Jail changed me a lot," said Veloso. "I went crazy because I couldn't stand it, or understand it. I learnt that these things in life are serious . . . I knew that we were touching serious issues in Brazilian life, but I didn't expect that strong response. Gil, I think, did expect it, and he was better prepared for it than I was."

With Veloso and Gil out of the picture and Os Mutantes going towards straightforward rock'n'roll, it was left to Gal Costa to keep Tropicália alive. "I remained here in Brazil, trying to uphold the ideology of Tropicália — the dictatorship couldn't kill it because of my presence. Holding a guitar for me was like holding a weapon . . . a weapon I used to defend myself."

In 1972 Brazil went through the "Economic Miracle" and the Government loosened up. Veloso and Gil returned to the country as vanguards of freedom. "The hero worship lasted for maybe two weeks," says Veloso. "Now the Left wanted us to be their symbols, and there was a lot of expectation on my first show in Rio. I disappointed everyone by quoting Carmen Miranda and playing songs by João Gilberto."

In the following years Tropicália became something, according to the Brazilian music journalist Silvio Essinger, "that was taught in schools. You could only find the records in second-hand shops." Veloso, Gil, Gal Costa and Rita Lee all became famous singers in their own right with few links to their old movement. But over the past decade a new generation of musicians has rediscovered Tropicália. The first was Nação Zumbi, who emerged from Recife where it all began in 1967 to cannibalise everything from Nirvana to samba and somehow make it all sound Brazilian. Then came a collective of postTropicalist musicians based in Rio that include Caetano Veloso's son Moreno, the producer Kassim and the experimental songwriter Totonho.

Totonho lives in a small flat on the poorer part of Copacabana that backs on to the side of Sugar Loaf Mountain. By day he runs a youth club for favela children and in the evening he makes atonal, experimental records. His latest, Sabotador de Satelite, is a conceptual protest album, set in the future, about the environmental chaos humans have wreaked by colonising the solar system. "There's no point in writing about the Earth because the damage is done," he says. "So I decided to complain about the shopping malls on the Moon."

Totonho sees Tropicália as the only honest expression of what it is to be Brazilian. "There is no purity in Brazil, racial, musical or otherwise. I didn't hear Caetano and Gil until I was 26, but I instantly understood what they were doing."

Kassim, the producer of the moment in Brazil, and Moreno Veloso are also continuing where Tropicália left off. They are part of a big band called Orquestra Imperial that plays samba songs in an avant-garde style, and Kassim recently made an album from the bleeps of a Nintendo Gameboy. "There are people of my generation who feel you cannot mix samba with anything," Kassim says. "That's when I feel close to Tropicália, because Caetano and Gil were told the same thing over 30 years ago."

How true have Veloso and Gil, the men that created it, been to Tropicália? "I don't think any of us have lived up to what we created then," Veloso concludes. "But what guided me to Tropicalism guides me to what I'm doing today." For Gil, its significance was deeper. "It became a religion in the sense of having an open mind, of being aware of our globality, our many-faced reality." As to Gil's appointment as Minister of Culture, Kassim and Moreno Veloso approve. "Our ministers have always been rich," says Kassim. "And they have never had any idea about culture. Gil is seen as a man of the people."

Now Gil spends his weekdays wearing a suit, sitting at parliament in Brasilia, and his weekends playing concerts. How can Tropicália, the ultimate countercultural statement, equate with his new job? "Because the spirit of Tropicália is still within me," he says. "The spirit is the one thing that will never change."

Tropicália: A Revolution in Brazilian Culture, Barbican Art Gallery, London, Feb 16-May 21 (www.barbican.org.uk/artgallery 020-7638 8891). A fully illustrated catalogue, Tropicália: A Revolution in Brazilian Culture, accompanies the exhibition. Edited by Carlos Basualdo, the 370-page book, published by Cosac & Naify (£25).